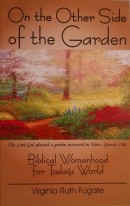 by Virginia Ruth Fugate
ISBN: 1889700401
Retail $11.95
Order single copies at Amazon Here
Ordering Information (for buying at quantity discounts).
Description
On the Other Side of the Garden was first printed in 1992 after fifteen years of Bible study and prayer. It quickly became a women's Bible study favorite and has encouraged thousands of women to look to God for their purpose in life. This 2004 second edition revision reveals how to: understand God's purpose for womanhood, distinguish submission from blind obedience, communicate Biblically with a husband, deal with a passive, overbearing, or unspiritual man, handle disappointments and irritations in marriage, and turn the frustrations of marriage into joy.
Its chapters reveal how to:
Distinguish submission from blind obedience
Correctly influence your husband
Communicate your needs in a language men understand
Deal with a passive, overbearing, or unspiritual man
Truly love your children and your family
Cope with disillusions, disappointments, and irritations
---
Testimonials/Endorsements
Dear Virginia,
I just wanted to say thank you for being faithful to the Lord to write this book; it is so timely for today.  We are using it in our ministry in our counseling along with having them at all our seminars and conferences.  Do you have it in any other languages?  We do a lot of international work, and this would be a great resource.  My wife is taking 5 newlywed wives through the book, and it is blessing them so much.  May the Lord Jesus continue to bless and use you in the hearts and minds of the wives in the body of Christ.
Your brother in the Lord, Craig Caster
---
I love your wife's book. It changed my life and, God brought it into my life at a time when I was asked by a very new believer to disciple her as she faced enormous marital disharmony. I taught her what I learned from The Other Side of the Garden, and they are very happy now. Personally, I was rebuked and challenged as I faced my critical attitude towards my husband's decision to accept a job that earned him close to minimum wage in the beginning. His decision was actually very wise because his salary has quickly increased by 5 times the amount he started at! My friend and I learned together that we must submit to our husband's leadership with a good attitude, but TRUST GOD TO PROVIDE FOR US!
And God is always faithful. Becca
---
My friend and I have received so many blessings from just putting our faith in God where our marriage is concerned, and trying to live a Biblically sound woman's role in our marriage. Thank you "soooo" much for this book. I tell all the women I know about it, and how much it has helped me in my walk with the Lord, and also in my marriage. Up until now, the other members in our group (besides myself and a close friend) have not wanted to begin this journey (attend a study group), but as our marriages have improved, and they have seen it, they now are ready to begin. PS. The study went very well with the other ladies. We only had one leave early, as she did not like what was being said, but everyone else's marriages were enriched and strengthened by the study. "She looketh well to the ways of her household; and in her tongue is the law of kindness…Her children arise up, and call her blessed."  (Proverbs 31:27-28a)
Christol (Helpmeet to William, mama to Lucas and Tyler)
---
Would your Church like to conduct a Bible study on Biblical Womanhood?
Our workbook outlines how you can host a successful 13-week group study. Click here for more information.