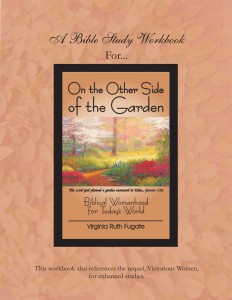 by Virginia Ruth Fugate

This product can now be downloaded for FREE here.
Description
This workbook/study guide is a companion to the book, On the Other Side of the Garden, by Virginia Ruth Fugate. This is a practical study aid for women who desire a more meaningful journey into the victory of Biblical womanhood. Women have used this workbook to lead group studies across the nation. The study also references Victorious Women, Virginia's second book, which presents real-life applications of Biblical truths that are taught in OSG. Note: It is NOT a stand-alone product that has much value apart from the accompanying text.
This 8 1/2″ X 11″ spiral-bound workbook contains 74 pages of review questions, personal application and discussion points, plus memory verses for each chapter. It is organized in a suggested 13-week schedule of reading assignments and class discussions, but the course can be tailored to meet any class schedule. A group Bible study can be led with only one copy of the workbook, if each participant has their own copy of the book. (Pass outs can freely be made by copying key pages for the attendees without violating its copyright, if not sold.)
---
Testimonials/Endorsements
If you like Beth Moore Bible Studies, you will enjoy this workbook to accompany the book of the same name. I would most highly recommend the workbook for people who are using the books in a group setting, such as a church Bible Study. Individuals might find it tedious to answer all the questions.
I read the book and took much wonderful information from it. For women who like to fill in the blanks, they might enjoy it more than me. I prefer to just read the books and leave the workbooks alone. If you like workbooks or if you're trying to set up a Bible study with a group of women, it might help everyone study together.
Sonya Haskins
The Homeschool Advocate