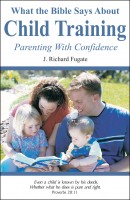 ISBN 1889700134
Retail $14.95
This is the same 2nd edition book in content, but better arranged, typeset, and updated then the previous printing. By ordering two or more copies from Amazon, you will receive FREE Shipping, making your cost for each less than the former printing.
Order single copies at Amazon Here
Ordering Information (for buying at quantity discounts).
Description
What the Bible Says About Child Training is the title of a best-selling Christian book (260,000+ copies) and of a seminar nominated "Best Film Series" by the Christian Film Distributors in 1981. This material is unique in that the subject is handled solely from the Biblical viewpoint. The author accepts the Bible as absolute truth and as infinitely superior to any human system of thinking. There has been no attempt to modify God's word to make it compatible with human philosophies, psychology, sociology, religious views, or public opinion. What the Bible Says About Child Training has been accepted by many Bible-believing churches as the standard text on child training since 1980. Now, this classic work is available as a 2nd Edition, 1995 release with the author's comments, examples, and anecdotes added.
If you would like to see 150+ reviews on the child training book, please search Amazon under that book's title. You will readily see that the quotes are extremely polarized between those who LOVE the book (5 stars) and those who HATE it; likely for the same reason. I believe this sharp contrast is because it is faithful to the Bible, and those who HATE it do so because they do not LOVE God's Word. This should come as no surprise since Christ warned Christians in Colossians 2:8 that they should,
Beware lest anyone cheat you through philosophy and empty deceit, according to the tradition of men, according to the basic principles of the world, and not according to Christ. [Comment: The consequences for these believers are graphically described in 2 Peter 2:18-22.]
Those who follow God's Word are warned in 1 John 3:13,
Do not marvel, my brethren, if the world hates you.
This is to be expected because as James 4:4b says,
Do you not know that friendship with the world is enmity with God? Whoever therefore wants to be a friend of the world makes himself an enemy of God.
Those who reject God's Word speak from their knowledge of the world philosophies (psychology and false religion) because,
They are of the world. Therefore they speak as of the world, and the world hears them. We are of God. He who knows God hears us; he who is not of God does not hear us. By this we know the spirit of truth and the spirit of error (1 John 4:5-6).
Testimonials/Endorsements
"I must admit; I am biased to your work. The first time I read What the Bible Says About Child Training, it said to read the appendices first. So I did, and therein you made it so clear that you believe the Bible is the infallible Word of God. When I began reading the book, I understood everything you said with clarity."
Mark Anthony Smith
Huntsville, Alabama
---
"We are so grateful for your ministry to the Lord's people through the years. Your materials have been a great blessing to my husband and me.
I am teaching a small class of ladies in our church whose husbands are preparing for the ministry. My topic is child rearing, and I am highly recommending your book, What the Bible Says About Child Training. It is the resource that we have most recommended as my husband, and I have served in Christian School ministries in the 80's and then in homeschooling circles during the 90's.
Thank you again for your ministry to so many of us as we have sought to rear our children according to the Scriptures. Our four sons have completed their Christian college training. Two are going to the mission field. The other two are in full-time Christian service. They are now rearing their children according to the principle of the Word of God. You have had a great part in helping us with their training. Thank you.
You may use our names and testimony in any way that will advance the cause of Christ as we teach the Biblical rearing of our children."
Bruce and Virginia Arnold, Greenville, SC
---
"Thank you so much for replying. We will definitely take your advice. Concerning your suggestion of re-reading the child training book every year—we marked and highlighted a good portion. We consider it not just a book, but a workbook. I'm sure we'll be referencing it often. A lot of people read a book; few "do" the book. We're planning on doing it. We went so far as to extract and type out the individual instructions so we would have a faster reference. You have a lot of theology, philosophy, and "why" to do the things you say—and we loved all of it. We typed up the instructions on "what" to do along with the examples you gave because we want to understand and follow God's word as much as we can.
We even have a list of favorite family Bible verses and added many of the ones you referenced. Again, thank you for your diligence in understanding and explaining the application of Scripture. You have done a wonderful thing."
Praise be to God! Fox Magee
---
Dear Mr. and Mrs. Fugate,
"In 1989, I caught the revelation for training my children. My oldest was five years old, and a monster. Within days, she came under my authority and I re-established lost boundaries. Yet, I felt ill equipped. Then someone lent me your book. Since then, I have read and reread What the Bible Says About Child Training. Your book helped me understand God's philosophy for raising children and gave me the methods to apply it in everyday life. I've also taught child training classes to women and even broadcasted a nine-part series over the radio here in Zambia. I can't really express the value of that knowledge, except that it saved my life and that of my three girls.
My oldest is now in her second year of college, choosing to be a Christian in the midst of plenty of ungodly temptation. My second will complete high school in June (we homeschool here in Zambia) and wants to study nursing. My youngest was the hardest to train since her type of rebellion was buried, and I could never put my finger on it until she reached her teens. Pretty scary, but God has been gracious to us. We still have time, and she sees herself pretty clearly now. God has been good to fulfill His promises. My girls have thanked me profusely and often for disciplining them, especially when they see other teens act horribly. They are not embarrassed by their mother, but heap affection and love on her (Proverbs 31:28)."
Sincerely, Joan Hansston, Mazabuka, Zambia
---
Would your Church like to conduct a Bible study on Christian Parenting?
Our workbook outlines how you can host a successful 13-week group study. Click here for a free download.