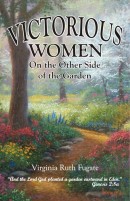 By Virginia Ruth Fugate 
ISBN: 1889700258
Retail $11
(Copies of this out-of -print book can be obtained from some dealers online.)
Description
Victorious Women is the sequel to Virginia's popular women's book, On the Other Side of the Garden. Most of its chapters are based on letters she received after the release of her first book. Women wrote to share how God had changed their lives through Biblical womanhood.  Virginia soon realized that the victories, struggles, and questions expressed must be shared with others.  She believes the joy over what God has accomplished in the lives of these ladies will inspire others to look to Him for the victory in their own lives. While On The Other Side of the Garden presents the principles of Biblical Womanhood, Victorious Women produces many practical, real-life applications.
A few of the subjects addressed in this book are:
The secret of Biblical womanhood–trust in God
How not to be affected by your husband's moods
A woman's words–uplifting or undermining
The super-woman syndrome
Victory over financial worries
Dealing with unfaithfulness and the victory of forgiveness
Note: Many of the key chapters and most of the illustrations contained in this now out-of-print book have been incorporated in the newly released, On the Other Side of the Garden of Eden.
Testimonials/Endorsements
"This book has been a wonderful resource of Biblical wisdom for me. Virginia explains how our words and actions are powerful displays of our trust, or lack of trust, in our husbands. We can truly build someone up, or tear them down with a few words. Not only was this bit of wisdom helpful in my marriage, but with my friends and family as well. This principle made me re-evaluate how self-centered I could be (even if it was unwittingly) with my words. Virginia illustrates this principle and many others with real life stories in an applicable and easy-to-read format."
R. Velasquez
---
A Must for Any Woman! By Lou on July 10, 2012, Amazon Customer Review
This book was recently given to me by my pastor's wife. Wow! After reading the book, the Lord revealed through the author exactly what His Word says we, as daughters of the King, should be as Godly women. You will learn that Trusting God with EVERYTHNG will open the door for you to be "Victorious" as a wife, mother, daughter, friend, and so on. Every woman should read this one!
---
Great Book!!! By LLH52 on July 16, 2008, Amazon Customer Review
Our bible study group has been doing a study on this & its been so eye opening,..Thanks so much!!!
---
Some women are not going to like this book! But it doesn't really matter what we "like" or not. What matters is that the book is Biblically sound, and the author has done a wonderful job addressing issues such as perfectionism, how to speak to your husband, financial worries, forgiveness in the marriage, etc. While I don't agree with every single thing she has written, I admit that it's quite possible that I have not matured to the point in my own marriage and life that I'm willing to accept what she has written. The tone is sweet and gentle while her admonishments and advice are shared in a caring manner, not in a judgmental, harsh way. This book definitely deserves five stars, and I would highly recommend it to any married woman–young or old–or any young lady about to be married.
Sonya Haskins, The Home School Advocate