Facet Five: A Completed Human Being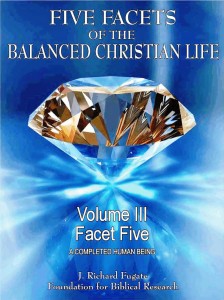 by J. Richard Fugate
ISBN: 1889700479
Spiral-Bound, 81/2 X 11
126-page Notebook
Retail $25.00
Order single copies at Amazon Here
Ordering Information (for buying at quantity discounts).
---
Description
Volume III describes the relationship every believer is potentially able, under God s Power, to develop within his own being (self); Becoming a Completed Human Being. This Biblically mature relationship eliminates the search for humanistic solutions for one's soul deficiencies or problems. (See Ephesians 4:13; Colossians 1:28 and 4:12; 1 Thessalonians 5:23; and James 1:4.)
This is the final volume of a three volume study. In it we will find that God has provided the means and power for every believer to become Spiritually complete and fulfilled. It will focus on the non-material (soul and spirit) development of the believer. We will study God's Plan for deprogramming man's mind from worldly philosophies of misinformation. We also will study His Plan for developing the infant image of Christ that was born in every believer at the time of his or her new birth.
Subsequently, the three stages of Sanctification will be set forth as defined by God's Word. We will also see that a Spiritually-complete believer can discover God's Purpose and meaning for his earthly life as well as what it means to live from faith to faith.
Finally, the important reasons a believer should commit his life in serving God will be shown in light of eternity. The eternal consequences of how one invests his Christian life will be carefully explained so the believer may make an informed decision. He will discover that he is free to live in such as way as to receive rewards, or to waste his life and see his morally good deeds disqualified and burned at the Judgment Seat of Christ. God the Father allows each of His children the freedom to live his life and determine his own consequences: either to reap rewards or loss in eternity based on those decisions.
This facet is second in importance only to the Priesthood upon which its success is based. Only a Spiritually mature believer, who both understands God s Word and allows the Holy Spirit to master his own being, is able to have this type of advanced relationship. Spiritual maturity is based on the believer's "faith-acceptance" of and reliance on a maximum amount of his acquired knowledge of God's Word. Empowering by the Holy Spirit (which enablement results from one's ongoing fellowship with God) requires humble submission by a believer to God s Will, thus allowing the Holy Spirit to counter his sinful nature through obedience.
A believer must understand and be willing to accept the fact that his sin nature seeks to enslave him by the lust of his own flesh and thereby dominate his will, mind, and emotions. He must also become totally honest with himself; be willing to examine and judge his deeds, words, and thoughts, as well as stand fully accountable for them before God and man. Subsequently, he must consciously submit his whole being to the control and leading of the Holy Spirit. This process is the only way he can simultaneously experience all aspects of the Holy Spirit's fruit: love, joy, peace, longsuffering, faithfulness, gentleness, kindness, goodness, and self-control. Teaching each Christian how to become "A Completed Human Being" should be the long-range objective of all teaching in the Church.
---
Reviews on Volume III
Volume Three concerns the believer's inner self. It is a kind of Biblical psychology, quite different from what usually is meant by this term. He considers issues of spirituality and the believer's relationship to the Holy Spirit.
Possibly Fugate's most original contribution to Bible doctrine is found in this volume as his development of the meaning of "the spirit of Christ" within believers. His contribution is one I had not ever seen before, but it answered some problems more typical interpretations of certain texts left unsolved.
Donald von Dohlen, Th.M; M.A.
---
See the More Information page of Volume I for reviews from contributors about this entire series.