Facet One: The Relationship Between Man and God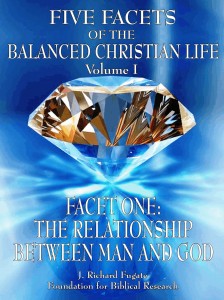 by J. Richard Fugate
ISBN: 1889700452
Spiral-Bound, 81/2 X 11
150-page Notebook
Retail $25.00
Order single copies at Amazon Here
Ordering Information (for buying at quantity discounts).
Reviews By Contributors On This Series
Rick Fugate, a business manager, Bible teacher, and publisher of Biblical materials has written a fascinating study in three volumes, The Five Facets of the Balanced Christian Life. It is something between a Christian life manual and a Biblical/systematic theology. It is good for use by a layman or a busy pastor. He bases his viewpoints on a well-researched and thought out philosophy and methodology of Biblical interpretation grounded upon the actual words of Scripture (in the original languages). His first facet is Volume One and concerns the believer's priesthood in relation to the Triune Godhead—Father, Son, and Holy Spirit. You could call this a kind of theology proper.
Readers will have much to think about in these volumes, but they should be driven to the Bible to find out what a balanced Christian life is really all about.
Donald von Dohlen, Th.M; M.A.
---
This three-volume work, Five Facets of the Balanced Christian Life, examines what the Word of God has to say about the Christian's relationship to God, the believer's relationship between other members of the body of Christ and toward unbelievers; as well as with life in this present age. It also sets forth particularly enlightening truths concerning the attainment of maximal spiritual maturity, which is filled with true spiritual meat. Although there is considerable depth in these three volumes, which will challenge the reader to think; each is written in a simple, straightforward manner that makes it easy for the reader to follow the author's logic.
I especially appreciated the citation and careful explanation of the numerous Scriptural passages upon which brother Fugate's conclusions are based. I believe pastor-teachers might find this work to be an invaluable tool to help them bring those to whom they minister closer to the stature of the fullness of Christ. I am persuaded that any Christian, who is seeking to obtain a Biblical perspective concerning his or her personal relationship with the Lord, with others, and in attaining real spiritual maturation will benefit greatly from this work.
Carl Denti, Pastor-Teacher/In the Word Bible Fellowship, Mesa, AZ
---
Description
This is the first volume of FBR's latest seminary-level textbooks, Five Facets of the Balanced Christian Life in Three Volumes. Together they cover five, distinct aspects of the multiple relationships and roles of the Christian as they are defined in Scripture. It is FBR's belief that much of the division existing in the Church today results from a lack of knowledge about these distinct aspects and/or an imbalance in their practice.
Volume I is dedicated to Facet One—The Relationship between Man and God, the doctrines concerning the relationship between a believer and the Godhead as a Believer-Priest. It seeks to answer the following questions solely from Scripture.
Who is a Christian? Is he one who pleases God by his own good deeds or works of righteous living—like keeping a law code or just following his own conscience and not hurting others intentionally? Or, is he perhaps one whom God preselected to become a believer based on some criterion unknowable by man? Or, is he one who simply responds to the convicting ministry of the Holy Spirit by accepting God's Gifts of His Righteousness, Salvation from the damnation of his soul, and Everlasting Spiritual life by Biblically-defined faith-alone, in Christ-alone, through God's Grace-alone?
Just how saved is Saved? The issue of eternal security is dealt with thoroughly from God's Word. In answering these two vital questions, we will cover
Man's original relationship with the Godhead
Man's act of rebellion that resulted in separating himself from God
The multiple consequences of man's sin
Man's futile attempts to restore his lost relationship by his own efforts
God's Grace Provision for man's relationship to be restored
The contrast between the human thinking and the Biblical definitions of faith
The basic reason that man is hindered from accepting God's Gifts of Righteousness, Salvation from the damnation of his soul, and an everlasting Spiritual life
Whether security in eternal/everlasting life is a reality or just a hope
Volume II covers three other facets of the balanced Christian life as described below.
Facet Two: the relationship of a believer to unbelievers as a Beacon pointing to Christ.
Facet Three: the relationship between believers in Ministry among each other.
Facet Four: the relationship of a believer can potentially have as Conqueror over Satan and the thinking and wisdom of the world.
Volume III is then dedicated totally to Facet Five: the relationship with one's self that he or she can potentially have as A Completed Human Being.