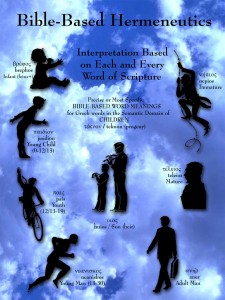 by J. Richard Fugate
ISBN: 188970041X
Spiral-Bound, 8 1/2 X 11
148-page Notebook
Retail $30.00
Order single copies at Amazon Here
Ordering Information (for buying at quantity discounts).
---
This textbook seeks to establish the basic rules required to interpret the Bible accurately. It carefully explains the differences between and importance of God's Revelation, Inspiration, and Illumination. It also sets down logical steps that the author thinks should be followed in exegeting all Bible passages. It is available through Amazon either as a printed spiral notebook or in a Kindle edition, as well as being an integrated product in the Logos Bible Software program.
---
Editorial Reviews
How should Christians study the Bible? This question has enormous implications. Rick Fugate has put into our hands a book that challenges our comfort zones, consistently pointing us back to Scripture itself for answers. The author's commitment to the sufficiency of Scripture, literal interpretation, inerrancy, and the original languages, as well as to a clear distinction between Israel and the Church and true grace are laid out as presuppositions that can be biblically validated.
May all students profit from this challenge to search the Scriptures.
George Meisinger, President, Chafer Theological Seminary
---
How to interpret the Bible is an ongoing issue among believers today. Whose interpretation is correct? How do we know? What qualifications are needed to interpret the Bible correctly? What is the difference between revelation, inspiration, and illumination? What steps should be followed in exegeting a Bible passage? These and other questions are discussed discreetly in this work by a long-time student of the Scriptures. This work is a helpful introductory tool to Bible interpretation.
Roy B. Zuck, Senior Professor/Emeritus
Dallas Theological Seminary
Editor of Bibliotheca Sacra
---
J. Richard Fugate's new publication will guide you into a solid hermeneutic that will make you and your students appreciate what Jesus meant when He said what is recorded in Matthew 4:4: "It is written, 'Man shall not live by bread alone, but by EVERY WORD that proceeds from the mouth of God.'" (Emphasis added)
Ron Merryman, Pastor, and fellow Elder
---
Excerpts from this Textbook's Introduction
I believe Satan's present-day tactical attack in obscuring God's Communication to man is directed at nullifying the reality of Supernatural Inspiration and need for Spiritual Illumination as a requirement in enabling full comprehension of Scripture. The 17th and 18th Century attacks by literary, historical, and scientific critics against the Authority, Inerrancy, Revelation, and Inspiration of God's Word's were devastating.
Conservative Evangelical Theologians have stood their ground and vigorously defended the Authority of God's Revelation and Inerrancy against the overwhelming "evidence" of alleged errors in Scripture. Wherever God's Word is challenged by those who reject the facts of historical events and the recorded Miracles of Creation and Christ's Virgin Birth, Sinless Life, Death, Burial, and Resurrection, these men simply responded by their faith in the Bible's clear teaching concerning these issues. Sadly, however, when it came to attacks against the Divine Authorship of all Scripture, many Theologians failed to stand only on what the Bible says about the issue. They apparently were intimidated by German higher criticism and, therefore, attempted to develop an apologetic based upon human reason to defend God's direct Inspiration of Scripture through human instruments. This approach (reason instead of the Word) left an opening for a gradual descent away from a believer's absolute acceptance of what the Bible provides as information by which he can and must live his life.
The unique characteristic of this text's position is that it presents an intensified view on the "verbal" portion of the approach to interpreting Scripture called "verbal, plenary Inspiration." A pastor and Dallas Theological Seminary graduate said, "I think this work is a clarification or advancement on the existing positions of verbal, plenary inspiration. It is truly a word-by-word approach in comprehending the most precise meaning of the Word of God."
J. Richard Fugate, Director: Foundation for Biblical Research